🐕THE ORIGINAL Suction Cup Dog Toy🐕
🐕The solution to your pet's anxiety and stress! This self-playing tug toy uses an innovative design to help release pressure from your dog's molars, greatly reducing any unwanted chewing behaviors. 🐕
RATED ONE OF THE MOST INNOVATIVE DOG TOYS BY U.S. DOG TRAINERS 2 YEARS IN A ROW!
✔️ Reduces Unwanted Chewing Behaviors
✔️ Relieves Anxiety and Stress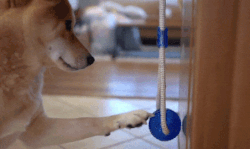 "Fun new toy for our black lab! He's a strong puller and it gave him a good tug of war."
-Dena B.
REDUCES UNWANTED CHEWING BEHAVIORS
This self-playing tug toy helps release pressure on your dog's molars, which greatly reduces any unwanted chewing behaviors. Distracts your furry friend from chewing your furniture, shoes, or any other personal items!
UPGRADED SUCTION CUP TECHNOLOGY
Your pet is powerful & loves to play, we get it! Thats why each toy is only made with a powerful suction cup & highly durable drawstring.
While this toy is durable, no toy is indestructible. For this reason, we recommend that you always use caution and supervise your pup during use. Dogs have sharp teeth, please monitor your pup to avoid them chewing the rope portion of the toy. As with all toys, make sure to discard any pieces that become separated.
NEW DURABLE & DOG SAFE DESIGN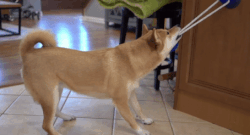 Each toy is made with light & portable non-toxic materials that are both safe & easy to install on smooth surfaces. Features soft textures that are easy to clean and harmless for your pet.
Not only is it easy to use, but it sticks to various smooth surfaces - just press down on the suction cup & your pet can play right away!
IN THE BOX
SHIPPING INFORMATION
We ship worldwide! Please allow 2-6 weeks for international orders.
We hope that you will love your purchase, but we also stand by our 100% satisfaction guarantee!
If you do not have a positive experience for any reason, we guarantee to work with our customers to ensure they are 100% satisfied with their purchase.
CUSTOMER SERVICE HOURS:
Monday - Friday
9 am - 5 pm EST
CUSTOMER SERVICE EMAIL:
supports@vip.126.com
For any questions or for shipping inquiries and tracking updates - please let us know directly at these support channels. We can respond to all forms of contact in under 24 hours during the above listed business operating hours.