Dog Washing Distraction Device-Blue
Perfect Curve Lick Pad Dog Washing Distraction Device!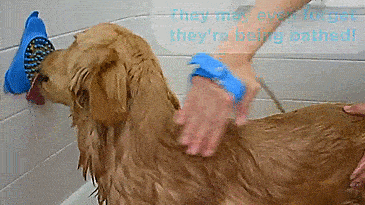 Bathe Easily: Just spread the peanut butter on the shit pad and stick it on the bathroom wall while you are bathing. The dog's attention will be concentrated on the wall and they won't struggle to take a shower. It is easy to give a dog a bath.
Easy to Use: Dishwasher washable or hand wash (with hot soapy water), it is easy to clean.
Slow Food Design: The dog's mat has a raised edge that allows the pet to eat for a long time, which is convenient for bathing; prevent food from spreading, keep the bathtub, and clean the shower room.

High Quality Material: Made of FDA approved food grade silicone material, the pad has no BPA and is safe for pets.
Powerful Suction Cup: The bottom is a small suction cup that absorbs more force and helps to fix on a smooth and clean surface.


Make Bathing A Relaxing Experience For Your Dog
Great way to control water while washing your dog!
Our pet hose sprayer is a hose-and-hand-held-sprayer system that can be used indoors or outdoors. But rather than simply being a sprayer-style attachment, this also gives you the ability to give your pup a luxurious massage while washing her, thanks to the soft bristles located on the sprayer.
WET SPRAY BRUSH - is an all-in-one shower sprayer, scrub and shampoo brush. Speed up bath time and reduce water and stress when you bathe anxious pets.
GAIN CONTROL - An ergonomic handheld comb gives you total control over pets during washing. Wash with one hand while holding your pet with the other. The lightweight flexible tool gives you control to soak pets in the most unruly of situations.
CONTROL WATER FLOW - Water is sprayed on demand from the silicon comb on your wrist allowing you to soak the densest fur, shampoo and rinse with a simple on/off click. Adjustable straps for the comb fit securely on any hand size for either hand.
TWO REMOVABLE FAUCET ADAPTERS - Connect to either your shower, bathtub or to your outdoor garden hose. Great for people who walk dogs regularly in muddy parks or run them in streams. Clean up outside with the hose adapter. Puurrfect for cats too!
ECONOMICAL - Pet grooming services are very expensive. And who has the time and money to take the dog to a professional grooming service? Now you can easily groom your dog fast after every walk while controlling fleas with the built-in flea comb!
Specification:
1.Material:Elastomer + ABS + Hardware
2.Color: Blue
3.Tube length: 8.5ft
4.Weight:14.9 ounces
5.Suitable for:Dog, Cat,Horse

Features:
1.100% brand new and high quality
2.Sprayer and Scrubber in One,bathe and massage at same time
3.Adjustable handheld bathing tool,convenient to control
4.Simple One-Handed switch buttom operation to turn off the water inmmediately.
5.Come with 2 faucet adapters,install and remove easily indoor or ourdoor.
6.Greatly reduces water and shampoo consumption when compared with traditional bathing methods.
7.Full-coverage water comb could be easy to cleaning residual shower gel in pet thick fur, to clear deep of the pet's skin.