Dog Hair Dryer Blower
$20.99
Drying Fast And Easy Using The Grooming Dog Blow Dryer Quick Blower
As if actually washing your dog wasn't bad enough, drying your dog can sometimes be even worse. As you try to get your slippery dog out of the bathtub while he's flailing around and kicking and scratching you, you somehow have to wrap a towel around him.
Once the towel's wrapped around them, they try to fight vigorously to run away, and if they do somehow get through, they run straight into the wall since the towel's still wrapped around their head. This device helps make your dog drying duties quick and painless for both you and your dog.
A perfect gift idea for any dog owner, the Dog Hair Dryer Blower will inflate and send a constant stream of warm air around your dogs body to dry them quickly and efficiently without the need for a towel. Plus, no more waiting hours for your dog to air-dry on their own by running around and most likely getting dirty again.
The unique dog dryer actually uses your hair-dryer to inflate a wrap that goes around your dogs body and circulates warm air from the blow-dryer to quickly dry your dog in a matter of seconds.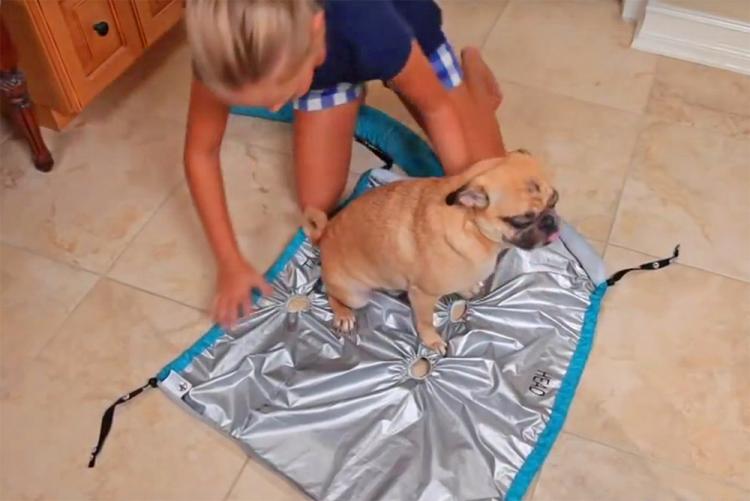 Features:
The pet drying bag is a revolutionary pet product that allows dogs to quickly dry their hair after bathing to avoid catching colds and illnesses. The outer layer of high-density Oxford cloth is strong and resistant to biting, and the inner layer of silver-plated film quickly dissipates heat to avoid being hot to the dog. avoid hair flying around and free the master's hands
Specifications:
S: Length 25-40cm, weight 5-8KG in weight suitable for medium-sized teddy cats, etc.
M: Length 35-51cm, weight 10-15KG , suitable for medium and large size than bear small and medium size Corgi
L: Length ≤ 75cm, weight 18-35 KG, suitable for Corgi bull fighting medium-sized Golden Retriever Satsuma, etc.
Package List:      
1X Pet Dog Dryer